Commercial Drywall Dallas TX
Commercial Drywall Dallas TX
Need a professional commercial drywall contractor in the Dallas / Ft. Worth Metro?
We work with general contractors and high-end home builders to deliver exceptional commercial drywalls in Dallas on time and on budget!
Expert Crews
Guaranteed Work
Top Rated Contractor
Licensed, Bonded, & Insured
Drywall * Metal Studs * Acoustical Ceilings
Commercial Drywall services in Dallas, Texas
Leading Drywall Services in Dallas
Our drywall experts understand the art of framing and architectural design. Our technicians can read blueprints, mark the layout and start laying track very quickly. In a matter of hours we can make significant progress on framing your project. This is where our many years of experience makes this process streamlined and efficient, saving you money, time, and frustration!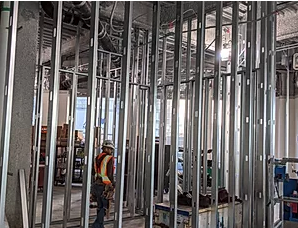 Fast, Affordable Commercial Drywall Services!
QUALITY PRODUCT & QUALITY SERVICES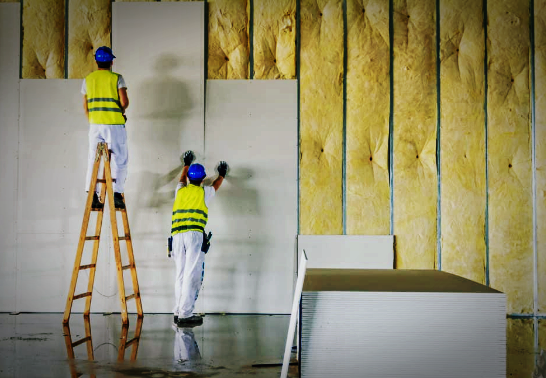 Looking for professional Commercial Drywall crews? 
We manage multiple experienced crews to install framing and drywall in your high-end home or business. 
We specialize in working on large projects with expertise in efficiency and working cooperatively with crews from other trades. We work on new construction as well as rehab and value-add projects across the Dallas Ft. Worth Metro. 
When choosing a Dallas commercial drywall contractor it is important to hire a company that works with you to make your project a success. We work with you to complete your project as efficiently as possible while staying on-budget and stand behind our work product. 
We work with some of the most experienced and skilled framing and drywall installers as well as finishers. From interior framing and drywall to exterior structural framing.
FAST AND AFFORDABLE SERVICES
Top-rated Dallas Commercial Drywall Contractor
We specialize in commercial projects
Courteous on-time, on-budget
Office buildings
Retail

Restaurant

Hospitality

Institutional 

Industrial

Select High-End residential
Drywall Installation Contractors
1/2' Regular Drywall 5/8" Fire Rated Drywall

Cement Board

Mold Defense Drywall

DensShield Tile Backer Board

Hardie Backer Board

DensArmour Plus
We work with all types of partition and lay-outs for the most complex metal framing designs and installations.
We also work with:
Wood partitions Metal framing partitions

Fire rated metal assemblies

Groin vaulted metal structure

Exterior heavy gauge metal framing
Drywall Finishing 
We work with all finishings from Level 1 through Level 5
Get a free quote on your next epoxy flooring project
We are recognized as a leading contractor in the Dallas area for drywall framing and installation services. Our crews are drywall experts and we understand the benefits of using drywall as a building material that provides many advantages. The following are just a few of the benefits of using drywall:
Affordability 
– Drywall is an extremely low-cost option. It's also one of the most cost-effective construction materials when compared to plaster or paneling, and it excels in terms of replacement and installation simplicity. When compared to other building materials like plywood or paneling, it is very cost-effective and long-lasting, making it an exceptional building material.
Weather Barrier 

– Drywall as insulation is a cost-effective and quick remedy for waterproofing your commercial property or building. It will keep any space warm and cozy, making it a more pleasant environment and more productive for employees and customers using the space. Furthermore, this barrier will prevent dampness and mold from entering your building in the first place. Insulation may be used on commercial structure projects of any size.
Fire Resistant Properties
– When properly installed and maintained, it can help to contain the spread of flames and make the safety advantages worth the already inexpensive cost. To maximize your chances of surviving a building fire, be sure you hire a trustworthy repair and installation business to assess the needs and risks of your particular commercial space.
Easy Repair & Installation
– Repair and installation is both quick and simple. Because it's installed in big pieces, the procedure is rapid and uncomplicated. Repair is also as painless as it can be because of the methods our crews use that allow for its restoration without having to replace an entire whole section.
Energy Efficient
– Because drywall is such an efficient insulator, it keeps heat in during the chilly winter months and maintains cool air inside throughout the warmer months. Even if you don't notice a significant difference in your energy costs at first, keep watching! It truly pays off. 
We work with commercial property owners and managers across the Dallas, Texas area to construct, renovate, or entirely rebuild projects. For expert repairs and installations in your region, call Commercial Drywall Dallas!
OUR DALLAS COMMERCIAL DRYWALL SERVICES
Walls made with drywall and framing are the most common way to partition your commercial space into various offices, rooms, and levels. Drywall walls have many uses, ranging from insulation to room décor and soundproofing, and can serve different purposes from one area to the next. People frequently speak of drywall as plasterboard, wallboard, or buster board, although it is also known as drywall in most areas of the country.
A drywall sheet is a mixture of calcined gypsum, water, and other chemicals that is squeezed together and covered with sheets of paper. This material is crushed and covered in layers of paper before being dried to give it firmness. The smooth side of the drywall has a smooth finish; the textured side has a rougher finish.
The surface of a sheet of drywall may appear uneven and disconnected when the wrong drywall is installed and/or improperly finished. The key to effectively executing finishing is experience and patience. Our crews have the expertise, knowledge,  and finesse needed to install drywall and finish it properly. We know how to apply finishing, as well as understand the importance of using dependable materials that will last far into the future.
Drywall comes in a variety of sizes. Panels as small as 4 feet wide and 8 feet long are available, as well as panels up to 16 feet wide. The thickness may vary from 1/4 inch to 5/8 inch. Furthermore, there are various sorts of drywalls accessible, including moisture-resistant types. It is essential to choose the right thickness and size for the project. We offer a wide variety of custon drywall installation services. We cut the wall to match your property's requirements and install it during the installation process. Furthermore, we make careful selections based on your budget and project requirements.
Metal frames are a good material for constructing larger structures since they are long-lasting and can withstand the natural elements. Since the 1950s, metal framing has been used to build structures.
Metal framing is a framework or structure of a building that has to be constructed in order to hang drywall. For low-rise, mid-rise, and high-rise construction projects, it is a durable and cost-effective alternative. Metal is an excellent substitute for wood in terms of durability and cost. Furthermore, it does not rot, bend, or wear with the passage of time. 
Metal Framing & Structural Components
A steel frame building is one where the structural framework is made up of horizontal I-beams and vertical steel columns, used to support the floor, ceiling, and walls of the structure. Metal framing allows for the creation of the most complicated buildings because it provides a wide range of shapes and sizes. The columns and beams are connected using U studs.
The framing installer will measure the size of the studs and the quantity of studs required for the frame. Our crew of experts have the knowledge to determine the number of studs needed to execute a structural building project successfully. We've worked on a variety of items with complex patterns, and we have plenty of satisfied customers.
Have you ever wondered why the sound quality in a music studio or a theater is superior to that of your house or commercial space? How do concert halls manage to be so lively and loud even when there are lots of people inside? 
How Does Acoustical Ceiling Absorption Work?
Acoustic ceiling panels absorb sound energy and prevent it from being reflected, thus improving the room's sound quality. An acoustic ceiling can also be used for soundproofing your commercial or office space. To get an acoustical effect, absorbers and diffusers are combined in an area to ensure sound control and comfort. The acoustic characteristics of the surface determine whether a sound is transmitted, absorbed. Absorbers absorb the sound in a space while Diffusers scatter the sounds throughout the room, making it quieter.
Ceilings made of materials other than tile or gypsum board are known as acoustic ceilings. Most commercial general contractors aren't used to working with them, therefore they can be difficult to install without the proper knowledge and expertise. If the acoustic ceiling installation isn't done correctly, it might not provide the sound quality you desire. We understand how to do proper ceiling removal and install acoustical ceilings to create the best result for a project. 
GENERAL LABOR & DEMOLITION
At Commercial Drywall Dallas, we provide outstanding General Labor & Demolition. Whatever the size of your project, we will work to get the job done safely, efficiently and on budget, without sacrificing quality. Our experienced crews are well-trained to work within the scope of each project to get the best results possible for every client. 
We are based in Dallas, Texas and service the local metro area and beyond. Commercial Drywall Dallas understands that fair and accurate pricing, along with superior results is the only way to build long-term relationships in the local contracting market. Our clients trust us to complete the work at an honest price with consistency, and we pride ourselves on delivering on every project. 
Drywall is originally known as gypsum board and is now one of the most popular and common building materials in the construction industry. The first forms of drywall were invented around 1916 and struggled to gain traction as a viable building material. It wasn't until the mid 1950's that it finally started to gain popularity. This happened in large part to the U.S. government building low-cost suburban homes. To maintain low cost, the more popular and expensive practice of plaster construction was substituted by drywall. As time went on, homebuilders and homeowners alike began to use more drywall to keep costs lower and still provide a fantastic base to paint and texture home walls and ceilings. 
Installation saves a great deal of time and money over plaster or other materials. Because of the standard size and nature of drywall sheets, it greatly reduces labor costs and can act as a superior barrier to moisture due to added features of drywall. We work with the best materials from top manufacturers to offer the best quality finishes to meet the needs of each project.
WE PROUDLY SERVES THE FOLLOWING AREAS OF TEXAS WITH A COMMITMENT TO SUPERIOR SERVICE:
Call for quotes and bid submissions
We pride ourselves on our reputation as The Best Commercial Drywall Company in the Dallas Metro!